Alaska's Wild River Guides
Bristol Bay, Alaska 99633

Vendor Type:

Guides

Fishing Type:

Freshwater

Fishing Style:

Fly Fishing
Description
Alaska's Wild River Guides provides the ultimate wilderness fly fishing immersion experience in western Alaska.
We specialize in week long float trips in the remote Bristol and Kuskokwim Bay's with a group of 6-8 anglers during the summer months. Anglers target all 5 species of Salmon, Rainbow Trout, Grayling and Dolly Varden Char as we float down 50-100 miles of river. We experience the entirety of each river from the headwaters to the estuary at a natural pace as we intercept migratory species along the way. If you are looking to experience wild Alaska and it's pristine natural fisheries, then check out Alaska's Wild River Guides!
Request Booking/Information
Call today (802) 347- 4550 or fill out the form below to plan your next fishing adventure:
Your Guides
Mark Rutherford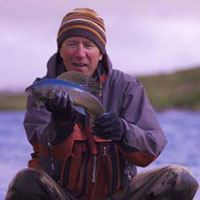 With over 34 years of fly fishing experience in Alaskan rivers and a Masters in Education in Alaskan Aquatic Ecology, Mark is one of the most experienced fishing guides in Alaska and the only one committed exclusively to wilderness fly fishing on the creeks & rivers that lodge traffic can't reach.
Peter Jaaks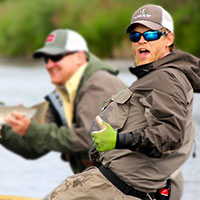 Born and raised in Colorado, Peter started casting a fly rod as a teenager on the mountain streams and lakes of the Rocky Mountains. While attending Colorado State University, Peter's backyard expanded to the Western US, spending free time from school chasing secret skiing glades and remote trout streams. Upon graduating from CSU, Peter drove from Colorado to Alaska and spent the summer backpacking, fishing, and rafting around south-central Alaska. Upon returning to the lower 48, Peter co-lead a National Geographic funded expedition floating the entire length of the Elwha River on the Olympic Peninsula in Washington to document the dam removal project and returning fishery there. In 2014, Peter started working for Alaska's Wild River Guides, sharing adventures and fish stories with guests while moving across the awe-inspiring landscapes of southwest Alaska. When he is not fishing, Peter can be found at the end of a long skin-track, searching for powder in the Colorado backcountry.
John Jinishian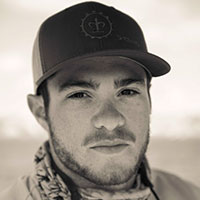 Born and raised on the shores of Long Island Sound, John grew up fishing for Striped Bass and Bluefish in his home waters. He worked in at his local fishing shop, Westport Outfitters for 5 years where he taught fly-casting instruction, tied flies, and began shore guiding in Saltwater. John attended the University of Vermont where he was the President of the UVM Fly Fishing Club and cultivated a passion for freshwater fishing. John earned his US Coast Guard Captains License in 2012 and began guiding during the summers in CT on his fathers 25' Center Console.  Upon graduation, John came to Alaska for the first time on an August Goodnews River trip with Mark and Brian and instantly fell in love with the fishery. John returned the following summer as a full time guide after completing The Sweetwater Guide School.  During the rest of the year he continues his guide work in the saltwater and works as a product specialist for the emerging Fly Reel brand, 3-TAND. In his free time, John enjoys snowboarding, sailing, mountain biking, hiking, diving, and chasing anything that swims.
Brian Malchoff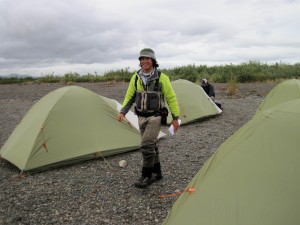 Born and raised in West Hartford, CT.  Brian developed a passion for angling, chasing largemouth bass in local lakes and ponds pursuing trout on the West Branch of the Farmington River and Stripers in the salt.  Brian attended Williams College where he played hockey and lacrosse.  Spring breaks were spent in the frigid waters of the various Great Lakes tributaries in search of steelhead, and summers targeting striped bass off the coast of New England.  In the summer of 2009, Brian made his first trip to Alaska and immediately fell in love with the vast wilderness. Upon graduating from Williams, Brian played semi-pro ice hockey in Europe then took a job teaching high school mathematics, and coaching hockey and lacrosse.  In the summer of 2012, Brian began full time work with Wild River Guides sharing his passion for fly fishing and wilderness rafting with guests.  When he's not fishing, teaching, coaching hockey and lacrosse he's hiking, kayaking, cycling, tying flies, and building custom fishing rods. He's a terrific casting instructor and great company while searching for Rainbow Trout, Char, Salmon, and Grayling!
Oliver Merrill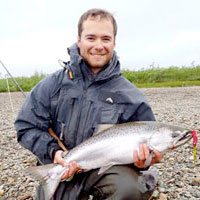 Born in 1987, started fly fishing in 1998. First came to Alaska in summer of 2002, guided by Mark on John Merritt trip, and returned in summer of 2009. Grew up in New Canaan, CT while spending 3-4 months annually in Cable, WI and Islesford, ME. Attended Deerfield Academy and Williams College in the Berkshire Mountains of Massachusetts, played lacrosse at both. Studied political science, with strong interest in literature and architecture as well. Summer seasonal work for Orvis 2009-2011.Began work for Wild River Guides in 2011. Accepted year around guide position with Wild River Guides in October 2011 and as Marketing Director for Middle West and Atlantic states.
In October 2012, began internship with the Natural Resources Defense Council in Washington, DC providing research on energy issues in Canada. Focus of work has been on the Canadian oil sands industry and offshore oil and gas exploration in the Canadian Arctic
Fished with Wild River Guides – Share your information – write a review
Facebook
---